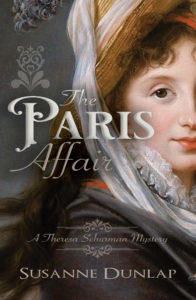 Yes, it's finally the day! The book is available everywhere books are sold. This is the third in my Theresa Schurman historical mystery series. That makes it an actual series (a first for me).
Here's what it's about:
Apparently, false rumors are all the fashion in Paris in 1783.
Marie Antoinette is facing hostility from the populace, inflamed by rumors circulated in pamphlets throughout Paris. The rumors claim that she has dozens of lovers, drinks the blood of poor people, holds satanic masses at Versailles, and more, when nothing could be further from the truth.
On the advice of the handsome, enigmatic Captain von Bauer, Joseph II—emperor of Austria and Marie Antoinette's brother—decides that mystery-solving violinist Theresa Schurman is the ideal candidate for a spy to discover the source of these vile slanders.
Theresa is only too glad to get away from Vienna for a while, unwilling to commit herself yet to marrying Zoltan—a Hungarian baron she met when she was fifteen—and running out of reasons to postpone her decision. She is eager, too, to explore a new musical scene and broaden her artistic education.
But when the captain confounds her expectations and places her as a bookkeeper in the establishment of Rose Bertin, milliner to the queen, she begins to lose hope that she will ever achieve her musical aims—or the emperor's goal of exposing the pamphleteers.
A chance encounter with the Chevalier de Saint-Georges, an extraordinary black violinist and expert swordsman, sets Theresa on the path to unraveling the mystery. But will the chevalier's patron, the powerful duc de Chartres, confound her efforts and put her—and the captain's—lives in danger?
Be prepared for music, mystery, love, and murder in this riveting tale of pre-revolutionary Paris.
I'm thrilled with the advance reviews on Netgalley! Here are a few samples:
⭐️⭐️⭐️⭐️⭐️ "Susanne Dunlap writes magnificent historical mysteries, and Book 3 in this thrilling series is no exception." – Netgalley Reviewer Literary Soirée
⭐️⭐️⭐️⭐️⭐️ "The Paris Affair is an exciting, suspenseful mystery. Dunlap brings Marie-Antoinette's Paris to life, and the book is full of detail on the fashions, society, and, especially, the musical life of that time." Vicki Kondelik
⭐️⭐️⭐️⭐️⭐️ "This book proves that young adult literature is a true art in it of itself and deserves any and all recognition it receives. Every page of this book deserves to be savored and appreciated." Kate Eminhizer
⭐️⭐️⭐️⭐️⭐️ "Wow! This book is just amazing! It is full of mystery, intrigue, action, a touch of romance, and is quite entertaining! Whenever I picked up "The Paris Affair", I was whisked back in time to 18th Century Paris and Vienna, and was drawn in from the very first page to the last!" Ashley Maimes
I'm hoping the reviews continue and that people just enjoy the book. I know I had a lot of fun writing it.
Links to purchase the paperback:
Bookshop.org • Amazon • Barnes & Noble
You can find your preferred e-book format here!
If you read and enjoy the book, don't forget to review it on Amazon and Goodreads (you don't have to have bought it on Amazon in order to review it there). Those reviews are really important to authors, and I'll be eternally grateful!