I happened to realize the other day that my bedroom walls are decorated with old photographs and drawings of my forebears, all of whom are no more.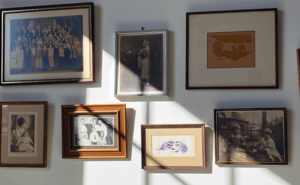 There's my maternal grandmother in her high school graduation picture from 1929. My other grandmother in her wedding gown in 1922. A photograph from 1903 picturing my grandmother as a toddler, her mother, her grandmother, her great aunt, and a neighbor and his mother. And of course, my own mother in the arms of her mother in 1930.
Why have I chosen to put those pictures on my walls? It goes beyond affection and memory, at least for me. I'm a historian, and as such I take an interest in people and events from the past. But none of the people hanging on my walls are remarkable for anything beyond having been my relations.
Or are they? As a historical novelist, I can't help asking the questions, wondering beyond the surface, putting those faces together with family lore, some of which may be apocryphal but some of which is not. And is it chance that almost all the photographs are of women?
I have to admit that the initial curation took place through my mother, who was the one who sorted through the old photographs and chose the ones to reproduce and frame. She, too, had a deep fascination for her ancestors. I suspect some of that was due to wanting to find a connection that would get her admitted to the DAR. There's too much to say about that to go into here.
Nonetheless, when I look at those photographs, really look at them, I see stories. I see my maternal grandmother seeming lost and small in her high school class, not quite smiling, and in another photograph looking down in wonder at her infant, born little more than a year later. Her father was an important man in the insurance business in Hartford who told her (according to my mother) that she could have all the clothes she wanted, as long as she made them herself. She married a six-foot-four Yale graduate who coached the freshman football team and taught Latin.
And the multi-generational photo of my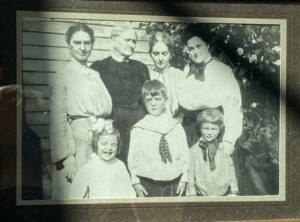 paternal grandmother as a toddler is another gem. Everyone in it stands still, serious and steady, posing cooperatively for the photographer, except for her. She squirms in an attitude of pure joy, pulling the eye away from all those set faces. What was she laughing at? My memories of her include her ability to tell absolutely hilarious family stories, only a few of which I remember. Perhaps that sense of humor was already there when she was three.
When we think about family history, it's tempting to grasp the bits that connect to big events, or that seem important beyond just our family circle. And that is indeed often a great way of telling a more personal, more intimate story based in history.
But I can't help thinking about that laughing toddler, my grandmother, who lived through two world wars, the flu epidemic, the depression, the Vietnam War, and went from being the daughter of a wealthy professional in Buffalo to the wife of someone who had to sell lightbulbs to survive. Her story is as worth remembering as anyone's. But the truth is, there's little documentation of it, beyond the vital facts of births and deaths and marriages, and some family lore and my own memories. So, if I wanted to write about her, make her the heroine of a novel, I'd have to let invention take over. Invention and research beyond the family to the places and events that surrounded them.
Who knows. Perhaps I will, someday. In the meantime, I let the pictures hang there, a reminder that today is only the result of all the todays that went before. That's why I'm absolutely certain there aren't just dead people hanging on the walls of my bedroom, but pages and pages of stories, waiting to be told.