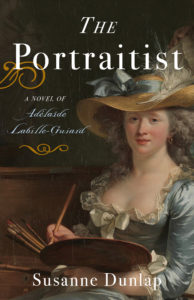 My twelfth historical novel, The Portraitist, is coming out with She Writes Press on August 30 of this year. It's a book I've been working on in one form or another for seven years. I've also written and published novels within the space of a single year, usually because I was under contract to a publisher, but not always. I've been traditionally published, hybrid published, and self-published. I've had creative years and years when I felt as if I would never write anything ever again, and who would care anyway?
I started seriously trying to be a novelist in 2003, nearly twenty years ago as of this writing. I had an agent for about fifteen years and six traditional book contracts with wonderful reviews, award nominations—and lackluster sales. And then suddenly, my editors left the publishers, publishers were no longer buying what I was writing, and I couldn't—or didn't want to—write what they were apparently buying. The career I thought I was building dried up like a puddle on a hot city sidewalk.
In other words, wherever you are as an aspiring or accomplished novelist, I've probably been there too.
I learned by doing, through a long, lonely slog.
My practice had been to write and rewrite, diving into stories not knowing how they'd turn out—a die-hard pantser. I produced many unfinished manuscripts that live on my hard drive, stories I thought had some promise and that I cared about telling. But I couldn't wrangle them into cohesion.
I got by initially at a time when publishing in the U.S. was a kinder, gentler place than it is now. I worked with editors (and my agent) who took the time to give me feedback that helped me take something rough and hammer it into shape.
 When those halcyon days ended, I called everything about my writing into question. It had to be that my stories were no longer good enough to be published. I started taking writing workshops and reading new books about the workings of story. Although there was evidence all around me among my incredibly talented writer friends that the publishing landscape was drastically changing, I assumed it was my own work that let me down. And in some ways it was.
If you're reading this now, I imagine you know exactly what I mean.
Learning to be a book coach changed everything for me.
One day, I signed up for a webinar with Jennie Nash through Gotham Ghostwriters. I don't even remember now what the exact subject of the webinar was, but I knew about halfway through it that I had to take this book coaching course she was talking about. I did, and in less than six months I earned my certification in fiction. A year later I added nonfiction certification.
The courses gave me ways to articulate everything I knew instinctively about story, and taught me how to evaluate both own my and other writers' work using powerful tools and techniques. It wasn't magic or rocket science. Mostly it was common sense, and allowing myself the objective distance I needed to sort through everything I'd learned the hard way—so that I could use it constructively to help other writers avoid those wrong turns and roadblocks.
Book coaching is different from editing, although a book coach has to be an excellent editor. A book coach is trained to see the whole thing, see where the pace lags and whether the story starts in the right place, question the underlying character motivations etc, and offer strategies for fixing those story-level issues. A book coach helps a writer all along the way, acting not just as editor but as cheerleader, commiserator, accountability partner and more.
Needless to say, working that way was a revelation when it came to my own writing.
The bottom line is I live what I coach, and that has made me a better writer.
For my part, (cliché alert) I try to practice what I preach. I now put myself through the same paces I put my authors through, and even hire book coaches to push me and make me accountable the way I do my writers. I can see where I might have stumbled in the past and now I figure out more quickly how to get through a road block or solve a plot problem, or where my characters are behaving against their natures.
I'm not afraid to ask for help. I used to think that asking for help would somehow be giving away some of my creativity. Cheating, as it were. But nothing could be further from the truth. Look in the acknowledgments of any published novel and you'll discover a village of editors, agents, beta readers, critique groups, and more.
I'm lucky to have a network of author friends I can turn to for feedback, too. That said, it's a heavy ask for feedback on a whole novel, and critique groups generally look at only a few pages at a time. Plus, there's no guarantee you'll get the kind of knowledge- and skill-based input you really need.
In the end, it boils down to community.
Perhaps the most important thing that came out of my book coaching has been joining a thriving, caring community of people who write and coach, and who share knowledge and news and triumphs and disappointments. Writing is a lonely occupation, and we need all the support from people who understand us that we can get.
But even being in my book coaching communty and among the writers I work with isn't always enough to feed my need for connection. I seek out other opportunities to interact with my peers and talk about writing, attend events when I can, even sign up for workshops with other instructors, because there's always something new to learn—and other serious writers attend them.
An invitation
What about you? How do you find support for your writing? Would you like to join my network? Below are all my social media links, if you're on social media. There's a button to join my email list if you're not. Or do both! I'd like to know what you're working on, where you are in your project, and what frustrates you. I might be able to share a few tips, or at the very least congratulate or commiserate. In addition to talking about writing, I also often share what I'm reading, how it affected me, what I learned from it. And I love getting book recommendations from other writers.
(And if you think you might want to become an Author Accelerator Certified Book Coach yourself, here's a link for more information!)
I'm inviting you to connect with me, to make me part of your universe of support—even if we never actually work together. I hope you'll accept the invitation, and I look forward to getting to know you and your writing!