I've been making some courageous decisions about my books lately. The most recent of them was deciding to get a good audiobook made of my forthcoming novel, The Portraitist: a Novel of Adélaïde Labille-Guiard. She Writes Press will publish the paperback and ebook on August 30, 2022, but She Writes doesn't currently produce audiobooks. So I kept the audio rights and decided to do it on my own dime.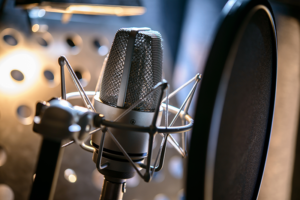 Why would I make a decision that will cost me upwards of $3,000 with no guarantee of return? Some would think I'm crazy, and that's their right. But I have my reasons. Let me assure you that I don't expect to make any money on the audiobook. I based my decision on the desire to make sure this book that I have put so much love and work into would be available in as many formats as possible.
And there's a marketing aspect, too. More and more people choose to listen to audiobooks, thanks to the availability of streaming. In the past couple of years, new platforms have jumped on the bandwagon so Audible no longer corners the market and it's possible to get audiobooks that don't cost more than a hardcover.
I didn't have to fork out thousands for my audiobook, but I chose to for those reasons and more. Before I explain, let me tell you about the options for indie and hybrid authors who want to make audiobooks.
DIY audiobooks are a thing.
It is certainly possible to record and edit your own audiobook. Derek Doepker has an excellent course about how to do it, and will review your sample files to make sure they'll be acceptable to Audible.
That's what I did for The Paris Affair, although I've never finished the editing process
because I just haven't had time… It's a lot of work. You can only record in small chunks, there's background noise and interruptions, and you need some equipment. But it's doable, and a good choice for a short non-fiction book, for instance.
Fiction is a different matter, in my view. I don't know about you, but I love listening to beautifully performed audiobooks. The right voice can bring the story to life. The wrong voice can sink it. Although I'm a pretty good reader, I knew I wouldn't be able to do justice to The Portraitist, even if I had the time (which I don't).
You can save money on professional audiobooks by sharing royalties.
Audible offers an Audiobook service for authors, but if you publish your audiobook through ACX, it's exclusive to them.
I chose instead to produce my audiobook through Findaway Voices, a professional service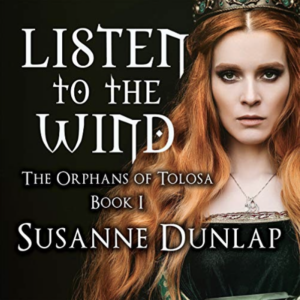 that connects authors with voices and then distributes the finished audiobook on many platforms—including Audible. When I used them for my first audiobook of Listen to the Wind, I opted for their Voices Share program. This program cuts the cost in half in exchange for a 50-50 royalty split with the narrator. My voice, Kae Denino, did a valiant job with the difficult Old Occitan pronunciations, and brought the different characters to life.
But that audiobook hasn't sold well, for a number of reasons. One is that I didn't put enough marketing resources behind it. It's also only volume 1 of a trilogy. More annoying is that somehow it's been categorized as fantasy rather than historical fiction on Audible and many attempts have failed to get the categorization changed. I honestly feel a bit guilty that my narrator hasn't gotten anything out of it, but there's not a lot I can do now.
So this time, I did it differently
I took a deep breath and went for it.
That experience of making mere pennies is part of what made me decide not to skimp on the narrator—or the marketing—this time. I'm still with Findaway, but I've opted to foot the entire cost rather than do a royalty share. I suspect this gave me access to a better class of voices (no complaints about Kae, I hasten to add). Where Kae was good at voicing my young protagonists in Listen to the Wind, my protagonist in The Portraitist is a mature woman, an artist.
I filled out an extensive questionnaire about the book and the kind of voice I was looking for and Findaway came up with ten options. I chose five to read samples from my book, and settled on the fabulous Deborah Balm.
Deborah's lovely British accent embodied Adélaïde's character to me. The American accents didn't sound right, and I wasn't going to have French accents throughout. Odds are anyway that English spoken in Paris at that time would have had a distinctly British cast. Deborah's excellent French pronunciation and ability to differentiate characters with a variety of accents and tones—without being cartoony or exaggerated—sealed the deal for me.
So I had a voice and a manuscript. What came next?
I completed a lengthy production-notes document that included the personalities of the various characters and what voices I envisioned for them, the overall tone of the book, the pace of the narration, etc. and sent the final manuscript. Once Deborah reviewed it, she contacted me with questions of her own.
After that, Deborah recorded a sample chapter for me to listen to and comment on. I
approved it with a few slight changes, and then she went away and recorded the whole thing, working with her own engineer.
Once she'd finished, she uploaded the audio files to Findaway for me to review, to listen carefully to every word, every nuance. With the exception of a couple of pronunciation things (easily fixed), I am enraptured. I will continue listening to it all again with my partner for the sheer pleasure of hearing it.
Those are the mechanics. More important are the aesthetics.
It's hard to quantify what this audiobook has done for me. First, I didn't so much learn as have it confirmed that a great voice can add a whole layer to a story. Listening to my own text being read by someone of Deborah's caliber made me not only hear my book, but see it anew. And yes, I heard one or two things that I thought I might have changed if I'd noticed them before. But they were tiny. All writers are self-critical—it goes with the territory.
All that aside, Deborah's reading validated my book for me in a way that just reading the words on the page couldn't. Hearing her embody Adélaïde, really feel her emotions, helped me believe this book was worth writing. The fact that I could listen to it all the way through more than once, familiar as I am with everything that happens, gave me confidence. Now, when I send The Portraitist out into the world next year, I won't feel quite so alone. I conceived it, researched it, and wrote it, but Deborah gave it a richer voice.
Excerpt to come!
I'd share an excerpt here, but I won't be paying for the audiobook until I approve all the tracks after Deborah has made my requested changes, so I don't technically have the right to share them yet. I promise to share an excerpt when I can! But that definitely won't be until after the launch of Voices in the Mist, the third and final volume of my Orphans of Tolosa trilogy on September 21 of this year.
So much happening in my creative life right now!