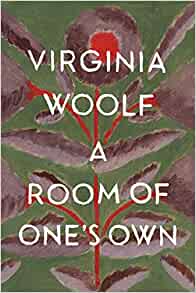 There it was. A lovely, brand new edition, lying on the shelf of the first bookshop I'd been able to browse since the beginning of the pandemic. I'd just ambled up from an outdoor brunch, iPad in tow to do a little writing, reveling in the glorious early fall day and thankful that I could get out and about. I bought it, of course. My old, dog-eared copy had been long lost in a move to New York from London thirty-four years ago. I'd probably read it online since then. But right at that moment, on midday on a Friday in September in the year 2020, I knew I had to possess that slim volume. I could see it by my bed, within reach, ready to read and savor. I ran my hands over it. Flipped the pages. I probably smelled it.
On my way home from the bookstore, no beadles leapt out to stop me as I walked across the grass. The libraries, unfortunately, blocked me from entering, but not because I was a woman. I didn't walk by Paradise Pond and ruminate on a lone rower, or try to catch a wayward thought that had vanished as the world interrupted me. But in my bag, all those things were happening, fixed to pages that preserved thoughts from a century ago, the product of one of the most important imaginations in English literature.
That book and I (well, not that copy, obviously) go back a long way. I have plenty of other books I want and need to read right now. Probably more than 20 purchased recently, shiny new volumes with book jackets and uncracked pages full of stories waiting for me to discover, and still more locked in the mysteries of a small, electronic device.
But none of those had been among the books I'd collected before the age of thirty-one, and which had vanished in that heart-rending move. I spent ten turbulent, wonderful years living in a city that awakened all my fantasies of history and culture, and it had to end. Still, I lost other books then. But this one…
I didn't at first understand why A Room of One's Own tugged at something buried inside me. Then I started thinking back to the time I fell in love with Virginia Woolf and the Bloomsbury Group, a time when I had lost—or rather, temporarily mislaid—a whole realm of my imagination, a whole aspect of who I fundamentally was. Virginia (yes, we're on first-name terms) restored my inner self after I stopped playing the piano, after I let go of all my dreams of being a pianist.
It's still difficult to piece together exactly what happened back in the late 70s that changed all that. I think it was a combination of running out of money in a foreign country (my parents would only support me for a year) and doubting I had any talent at all—an idea that was subtly reinforced by my pianist boyfriend, whom I'd met during my junior year at the Royal College of Music—but that's much too long a story to tell here.
Whatever the cause, I suddenly found myself rootless. Bereft. The piano, I felt, had turned its back on me. And yet, I still possessed a yearning, a fund of creative energy, a confusion of untamed thoughts and swirling ideas. I had nowhere to put it all.
And losing the dreams that lifted me above the expectations of how a woman's life should go knocked me sideways. I could feel myself sliding into the box I had been expected to occupy as long as I could remember. I married at 22 (to that boyfriend, see above). Had a child before I was 24. From then on, just surviving took all my energy, and yet, the seeds planted by Virginia had taken root and were burrowing away under the surface.
How naïve we can be when we have so little of life under our belts. True, the piano had always been where I turned when life was unbearable, when I wanted to immerse myself in beauty, feel my highly trained muscles depress the keys and move my fingers at lightning speed for the sheer joy of the physical and aural sensation. It's where I went when my mother was having a breakdown or just drunk. It's where I went when I couldn't figure out how I felt about this or that boy. It got me through a horrific last year of college, during which my friends shunned me because I'd slept with my best friend's ex-boyfriend just to make him leave me alone.
I escaped into the piano. It always welcomed me with open arms. Without judgment. Willing to be molded beneath my hands. It was my refuge, and I lost that for a time. I thought I'd lost myself.
Enter Virginia Woolf.
I can't even remember where I bought the first book—probably Foyle's—and even which one it was. I have a feeling it was The Voyage Out. I believe A Room of One's Own came pretty quickly after that.
Oh, I was reading other things voraciously, too. When I no longer felt it necessary to spend every spare hour of the day practicing the piano, I rediscovered the joy of losing myself in a great story. I remember reading Portrait of a Lady while I sat at the typewriter in the media buying offices of Saatchi & Saatchi in London—my under-the-table job—waiting for someone to give me some work to do. Was it a coincidence that these offices were a short walk away from Bloomsbury and all it represented?
I'm a huge believer in the power of place. And that place certainly had power over me. It may have been the heady mix of streets redolent with echoes of the past and the words I'd read still resonating inside me. Whatever it was, Virginia didn't just make me want to read. She made me want to write.
I had never been a journal keeper, and my high school English teacher (a wonderful woman who is sadly deceased) told me that I had great ideas, but I didn't know how to write. Not what you want to hear before going off to college. But I fixed that by taking a writing course during my Freshman year at Smith—expository prose. After that, my papers were all well written. But I hadn't really considered writing anything else. My brother was the writer. I was the musician.
Until Virginia Woolf. Once I discovered her, I read everything I could get my hands on that was written by or about her. I read all about the Bloomsbury Group, and at one point I even joined the London Library, founded by Virginia's father. I started experimenting with stream-of-consciousness writing. It suited my complete lack of training in the craft of fiction, as it was divorced from the requirements of good storytelling, only necessitating the stringing together of words and impressions, following my mind down its tortuous avenues.
Of course, everything I wrote as I navigated my complicated, sad, joyful life in London disappeared along with the library I amassed. And so it should have. It was terrible.
But my writing muscles were starting to stretch themselves and work.
I cannot claim that my writing bears any resemblance at all to that of Virginia Woolf. But the spirit of her, the defiance that kept me going even when no one believed I'd ever write anything that anyone would want to publish—that persevered. It's flowing through every word I commit to a page. Thinking of her and her unwavering commitment to writing her way reminds me to keep pushing harder in my own writing, to make it as good as I can make it, whatever that is.
I now have money (at least, enough for the moment) and a room of my own. And I write fiction.
Thank you, Virginia.