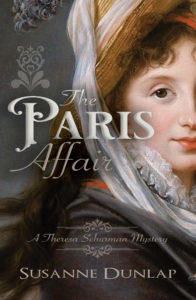 These days, I'm so busy it hardly seems possible that I'll be able to launch The Paris Affair on September 29th. I was thinking I would reflect today on what it means to launch a book in this strange time of COVID-19. For, even though I was already working from home, everything has felt different for months. It's hard to explain why, but I imagine many of you reading this know what I mean.
Planning has been both harder and easier. All the in-person events I'd counted on—especially my local bookstore launch appearance—are out the window. I was also really hoping to be able to visit schools this time to introduce high schoolers to the Chevalier de Saint-Georges. He has definitely been one of the most fascinating historical characters who has ever appeared in my novels. But of course, schools will be lucky just to figure out how do do the regular learning this fall.
Yet many of the efforts I would normally be undertaking are still possible. That's largely because so much book promotion already takes place online. Only the major publishers could afford to send their writers on actual book tours, for instance. Still, planned appearances at readings in venues such as the gorgeous studio at Writers In Progress, won't be possible.
But I've done my best, and so far, this is what it looks like:
My stay-at-home book launch plan
The Paris Affair is available for Netgalley reviews, now through September
It's always good to have advance reviews of one's book. Netgalley lets people who sign up (it's free) request e-books to read and review—free.
Goodreads Giveaway starting on August 30! Click to see the details:
Virtual launch party on Zoom, September 29
I was disappointed not to be able to see local readers and writer friends at my lovely local bookshop on September 30, Broadside Bookshop. Broadside hosted the launch of my very first historical novel, Émilie's Voice, and has sold many copies of The Mozart Conspiracy.
I decided that, rather than have an awkward virtual get-together where people ask me questions about the book, I'd turn it into a visual presentation about the Chevalier de Saint-Georges. I can even share some of his music over Zoom, I think! I'll test it out beforehand. If you want to come, it's at 7pm EDT on September 29. Email me to RSVP and get the Zoom details.
You can read more about my approach to including him in the book in this post.
Blog tour, starting September 30
I'll be "visiting" more than a dozen book blogs who will review, interview me, or put up a guest post. To follow along, make sure you're following me on Facebook, Twitter, or Instagram. And I'll be giving away a signed copy of all three Theresa Schurman mysteries to one lucky winner. Entries will start at the beginning of the blog tour.
Mailing list giveaway—through September 30
If you're on my e-mailing list, I'll be giving one lucky person signed copies of all ten of my historical novels, to celebrate the fact that The Paris Affair is my tenth!
And all this will happen while I'm revising and editing book III of the Orphans of Tolosa trilogy, Voices in the Mist, and working with coaching and editing clients. It's all work I enjoy, so even though it will be intense, I'm definitely not complaining.
Of course, you can preorder The Paris Affair now! Go to Bookshop.org to preorder from your favorite local bookstore, or go here to order from your chosen e-book provider.
I hope to see many of you at my virtual launch party, and interact with you online often. You have no idea how much I appreciate my readers and writer friends. Writing books is a lonely business. Knowing you're all out there makes me feel it's all worthwhile.